その「お嬢様」と言う誰か?
Who's this "Fraulein" anyway?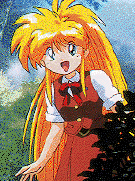 Yuna may seem like an ordinary teenage girl who tends to be cheerful and friendly, but she's also an awesome Galactic Princess in sexy mecha armor! When she's not doing school work or saving the galaxy, she's a cute idol singer with quite an attractive voice.
She's clumsy and childish most of the time but her mysterious ability to seemingly make everyone her friend is a redeeming quality. However, you should never think of messing with her existing friends, or you'll be so sorry!