おじょうさまでした!
It's a Fraulein!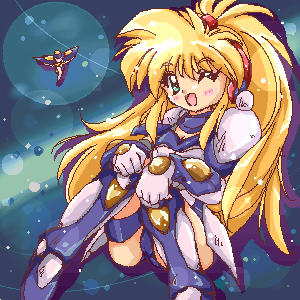 神楽坂優奈
(かぐらざか ゆうな)
Kagurazaka Yuuna
카구라자카 유나
date of birth:
2283-04-17


(subtract 3000 from year)
lives in "Neo Tokyo"
(Yokohama City,
Kanagawa Prefecture)
height: 158cm
weight: 45kg
b78-w56-h82
AB type
すみませんでした、本ページのほとんどは英語に書かれたです。

Yuna is just your average schoolgirl. She may be clumsy or annoying but she always makes up for it with her charming looks and cheerful personality.
She lives with her family in Neo Tokyo, which according to a completely unnecessary backstory, was built in Yokohama after the original Tokyo was destroyed in a war.
Her idol singer debut began when she entered a pageant to become a "Galaxy Fraulein", whatever that is. Little did she know she was destined to become both a galactic princess warrior AND an idol singer!